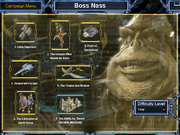 Boss Nass is the third campaign in the game. The campaign is split into two parts, and the player controls the Gungans in both.
In the first part, Boss Gallo unites the Gungan tribes to defeat Boss Rogoe. In the second part, set three thousand years later, his descendant Boss Nass allies with the Royal Naboo to stop the Trade Federation from conquering Naboo.
"It is a time of chaos for the Gungans. Three thousand years before the invasion of Naboo by the Trade Federation, the Gungan tribes are at war with each other.
But a leader has arisen. GALLO, ancestor of Boss Nass, has encouraged the warring factions to unite as one.
But his pleas fall upon deaf ears. It will take more than words to end the years of bitterness..."
—Campaign description
Scenarios
Edit
Ad blocker interference detected!
Wikia is a free-to-use site that makes money from advertising. We have a modified experience for viewers using ad blockers

Wikia is not accessible if you've made further modifications. Remove the custom ad blocker rule(s) and the page will load as expected.