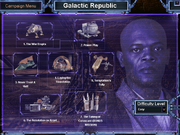 Galactic Republic is the second and last campaign in the expansion. The Confederacy campaign must be completed before it becomes available. The player controls the Republic.
Jedi Master Echuu Shen-Jon learns that Count Dooku's secessionist movement have gotten their hands on the Decimator, a powerful secret weapon developed by the Republic. He must battle Dooku's apprentice Sev'rance Tann to recover the weapon and protect the Republic.
"It is a perilous point in history for the Galactic Republic.
Fearing a collapse of energy production, Mace Windu, of the Jedi Council, orders ECHUU SHEN-JON, Jedi Master, to the secret world of GEONOSIS. Joining him on his quest is Stam Reath, an impetuous young Padawan with a zest for battle. The secessionist movement, under the control of Count Dooku, has never been stronger, and Echuu fears a Galactic Civil War may be upon the Jedi..."
—Campaign description
Scenarios
Edit
The campaign consists of seven scenarios.